Vacation rentals and visitor attractions Wyoming USA
The true spirit of the Old West lives on in Wyoming. Wide-open spaces, canyons and ranches characterise this land. Cowboy traditions live on through rodeos and Native American culture prevails on the reservations.
Wyoming is blessed with an epic landscape. Snake River Canyon provides a stunning backdrop for white water rafting and trout fishing. For natural beauty, visit the Five Springs Falls, near Lovell, and see the water drop a dramatic 100 feet.
One of the most popular natural attractions in Wyoming is Yellowstone Park. Here you will see the famous Old Faithful hot steam geyser.
Cheyenne is the historic state capital. Every July the spirit of the Old West is reawakened with the major rodeo event, Cheyenne Frontier Days. See exciting rodeo events such bull riding and barrel racing along with live music and traditional open-range cooking.
For your own taste of the cowboy life, stay at one of the many guest ranches. Here you will learn ranch skills and ride the prairies on horseback. Campfire cookouts and wilderness exploration are traditional ranch activities.
You can get close to nature amongst Wyoming's unspoilt landscape. The National Elk Refuge is home to thousands of Elk in the harsh winter months. Prairie dogs and coyotes can be spotted on the state's high plains and Whiskey Mountain is the home of the bighorn sheep.
Self-catering holiday cottages and apartments to rent in Wyoming:
Special offer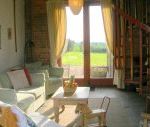 Usually 350 GBP, Special Offer Price 275 GBP
Read more info on offer availability