Vacation rentals and visitor attractions in Wisconsin USA
Located in the heart of the Midwest, Wisconsin's enchanting rural scenery provides the perfect getaway for those who want to experience the homely charms of apple orchards and cranberry farms or to enjoy the glittering waters of the Great Lakes.
Wisconsin is blessed with many nationally important sites of outstanding natural beauty. The Apostle Islands National Lakeshore is an enchanting watery kingdom of towering cliffs set with historic lighthouses. Explore the serene shores of the islands by kayak or take a hike into their mysterious interiors. For sailing and fishing, head to the banks of the Mississippi River and watch the world go by as the grand old lady tracks her way through the heart of the USA. Kettle Moraine State Forest is set with challenging trails perfect for mountain biking.
The Wisconsin countryside is full of tasty treats. The town of Warrens is surrounded by cranberry farms. Cranberry ice cream and cranberry pies are amongst the local specialities. Door County is known for fabulous cherry pies made from local grown cherries. Beer lovers can head to the New Glarus Brewery to see the brewing process and to sample local speciality beers.
The city of Milwaukee is set on the shores of Lake Michigan. Discovery World at Pier Wisconsin offers an opportunity to marvel at the sea life in the aquarium and then clamber aboard some of the historic boats which once sailed the Great Lakes. Years ago, many German immigrants settled in Wisconsin. German tradition continues at Usinger's Famous Sausage factory tour: a fascinating glimpse into how sausages are made. In the beginning of July, the city rocks to the sounds of Summerfest, one of the USA's biggest music festivals.

Self-catering holiday cottages and apartments to rent in Wisconsin:
Special offer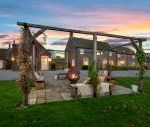 Original Price 445 GBP, Discounted Price 399 GBP
More Information on dates available