Vacation rentals and visitor attractions in Tennesse USA
From the wilderness of the Great Smoky Mountains, down along the lazy path of the Mississippi to Memphis, the home of Rock and Roll, Tennessee will fill your senses.
The Great Smoky Mountains form a rugged landscape, the peaks half hidden by mist. The lower slopes are densely forested and the expansive territory and rich ecosystem is protected by law as a National Park. There are over 900miles of trails for hiking, mountain biking and horse riding. Bird watching is popular with over 200 species visiting the park. Quiet streams and ponds are perfect for fishing and enjoying the solitude.
The Mississippi River traces a lazy path through this land. Cotton fields were once a common sight along her banks as were the slaves who laboured under the hot sun. Grand antebellum plantation houses still stand. Visit the Cotton Museum of the South, in Bells, to see what life was like for cotton farmers. Alternatively, the Mississippi River Museum tells the story of this grand old lady throughout history.
Memphis is the home of Rock and Roll. Stars like Elvis Presley, Johnny Cash and BB King made their first records at the Sun Studio in the city. Few people come to Memphis without paying tribute to Elvis Presley at his former home, Graceland. See how the King of Rock and Roll lived, the cars he drove and the clothes he wore. The musical nostalgia continues at the Delta Blues Museum. Learn how the Blues developed amongst the poor, on the banks of the Mississippi. The great river flows through the city of Memphis and you can take a ride, southern style, on an old-fashioned paddleboat.
Memphis may have many musical flavours but in terms of food, barbeque is king. Taste freshly grilled pork, smothered in rich barbeque sauce in one of Memphis' world famous barbeque restaurants.
Self-catering holiday cottages and apartments to rent in Tennessee:
Special offer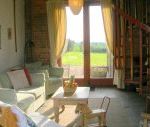 Was 350 GBP, Reduced to 275 GBP
Read more about availability