Visitor attractions and Self Catering in South Carolina USA

The sun-drenched state of South Carolina is the home of fantastic beaches, great golf courses and original southern charm.
The South Carolina coastline is dotted with white sandy beaches and alluring islands. At Myrtle Beach, the sand goes on and on for miles. There is something here for all the family: fun-packed amusements for the kids, shopping, theatres and world-class golf for the adults. Murrells Inlet is a charming fishing village where you can enjoy locally caught seafood in one of the many seafront restaurants. Water sports such as deep-sea fishing, scuba diving and sea kayaking are also popular here.
Charleston is the archetypal southern city. Blessed with a wealth of antebellum mansions, old plantation houses and a colourful history, Charleston is a charming place to explore and a great base for nearby beach resorts. In the days before the Civil War, slaves laboured on the plantations. The Old Slave Mart Museum gives a fascinating insight into the horrors of this barbaric practice. To see how the wealthy lived, visit the Aiken-Rhett House. This fine antebellum mansion boasts refined interiors, but the tour also includes the kitchens and slave quarters. Finally, after dark Charleston's myths and legends come alive on ghost walking tours where you'll be introduced to some of the city's more 'spirited' inhabitants.
Golf is taken very seriously in South Carolina and the golfer will have no end of interesting and varied courses to play. The Myrtle Beach area alone has over one hundred courses, many offering world-class play and luxurious facilities.
Self-catering holiday cottages and apartments to rent in South Carolina:
Special offer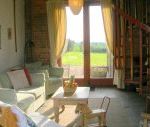 Usually 350 GBP, Special Offer Price 275 GBP
Read more info on offer availability