California holiday accommodation and visitor attractions
The Sunshine State welcomes visitors to its long Pacific coastline and the iconic cities of San Francisco and Los Angeles. Beyond the glitz of Hollywood, California is home to Yosemite National Park and the world famous vineyards of the Napa Valley. Adventurers will find no end of outdoor activities along the Pacific coast and inland amongst the mountains and deserts.
Los Angeles is synonymous with Hollywood and the film industry. Come to discover the secrets of movie making and the thrilling rides at Universal Studios. Explore the famous sights of Hollywood and see how the stars live on a Movie Star Homes Tour. For a bit of nostalgia, visit the original Disneyland. The beachfront at Santa Monica is great for roller blading, restaurants and amusements. See how the famous shop at the designer stores on Rodeo Drive.
San Francisco is a grand old city. See the cable cars running up the Hyde: a hill lined with wooden townhouses, the scene for many movies. Wonder at the expanse of the Golden Gate Bridge. Take a trip down to Fisherman's Wharf and enjoy a warming bowl of clam chowder, served in its very own edible bread bowl. Book a trip out to the island of Alcatraz and tour the prison. Take a tasting tour through Chinatown or admire art treasures at the Palace of Fine Arts.
The Napa Valley, north of San Francisco, produces a bountiful harvest of wines. Many vineyards welcome guests for tours, tastings and even overnight stays. A great variety of grapes are grown in California leading to a wonderful selection of wines to discover.
The Californian coastline offers great opportunities for water sports such as water skiing, sea kayaking and scuba diving. Marine wildlife you might encounter includes seal lions and gray whales.
Self-catering holiday cottages and apartments to rent in California:
Special offer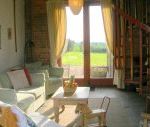 Was 350 GBP, Reduced to 275 GBP
Read more about availability