New Hampshire vacation rentals and visitor attractions.
History, Atlantic beaches and spectacular autumn foliage, New Hampshire is a family friendly destination with old world charm.
The New England states were the setting for many dramatic historical events. Come to the Fort at No.4 to experience the daily life of an 18th century soldier. See how they cooked, slept and trained during turbulent times of war. For a gentler taste of history, visit the Canterbury Shaker Village. There are over 25 buildings to visit. See how the Shakers practiced their crafts and lived a simple life amongst nature. Rowdy village life can be experienced at Strawberry Banke Museum. Here you will find a living museum where costumed guides show how settlers lived in the 17th, 18th and 19th centuries.
The White Mountains offer outstanding outdoor activities. Little Sunapee and Pleasant Lake are popular summer locations for water sports such as boating, swimming and angling. Take in the tranquil views as you walk around the lake or enjoy a picnic on the banks. In the winter, experience the thrills of downhill skiing or try an exciting snowmobile trip.
Vacation rentals in Portsmouth provide a base to explore this elegant seaport with cobbled streets and a charming harbour. Come to enjoy the sea views and try local seafood specialities in one of the many restaurants. Afterwards, how about a beer at Redhook Ale Company's Brewhouse where you can see how the beer is made before you quench your thirst
Hampton Beach summer rentals offer old-fashioned family seaside fun. Come and build a sandcastle on the beach and enjoy the seafront amusements. There are plenty of activities to keep the kids busy all day and plenty of evening entertainment and relaxing restaurants to enjoy after nightfall.
In the autumn, New England is ablaze with spectacular red and gold foliage. October is the month to see the foliage burn brightest and there are many suggested driving routes which take in the best sights, with charming antique shops, restaurants and cafes along the way.
New Hampshire vacation rentals and summer rentals include cottages and lake houses.
Self-catering holiday cottages and apartments to rent in New Hampshire:
Special offer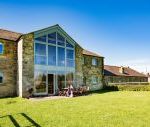 Price originally 1098 GBP, Now reduced to 696 GBP
see more about available dates