Nebraska vacation rentals and visitor attractions
Nebraska is pioneer country. Come and find out how the pioneers colonised this land and what is meant for the North American Indians.
The Homestead National Monument of America, in Beatrice, tells the tale of how free land attracted thousands of pioneers. The Stuhr Museum, in Grand Island, is a recreated pioneer Railroad town with over sixty shops. See traditional crafts and activities being re-enacted by costumed villagers and experience what life was like when the west was young.
Cowboy traditions live on through the many rodeo events. The events span across the state and are held for most of the year. Come and enjoy the excitement of the rodeo atmosphere and the taste of barbeque. Cowboy culture is celebrated at the annual Cowboy Poetry Gathering and Old West Days, held every October. Finally, follow in the footsteps of the cowboys of the west on the Cowboy Trail, starting in Lincoln. The trail is an original 19th century pathway which was used by thousands of pioneers. Spot rare wildlife such as bald eagles and vultures along the way.
Wide-open spaces provide a peaceful place for hiking, horse riding, kayaking, golf and cycling. Fort Robinson State Park also offers stagecoach rides and a western style buffalo stew cookout. For fishing try the Merritt Reservoir State Recreational Area where you can try for catfish and perch. The Niobrara River is one of the top rated in the USA for canoeing amongst the thrilling rapids.
For atmospheric nightlife, come and enjoy the Jazz clubs and comedy nights in Omaha. There is a local tradition of microbreweries and a wide range of restaurants.
Nebraska vacation rentals and summer rentals include log cabins and lake houses.

Self-catering holiday cottages and apartments to rent in Nebraska:
Special offer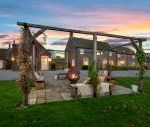 Was 445 GBP, Special Price 399 GBP
See the Offer Details including available dates