Missouri vacation rentals and visitor attractions
Missouri is a state in the heart of the United States. The famous American author, Mark Twain, was born here and you can still get a glimpse of the time when Tom Sawyer and Huckleberry Finn got up to all kinds of mischief in picket-fenced villages of old town America. A land of rivers and valleys, there is plenty of opportunity for outdoor activities in natural surroundings. Finally, the cities of St Louis and Kansas City are the place for art, culture and nightlife.

Mark Twain was born in a town called Hannibal. Many historic homes have been preserved since his time and offered a fascinating insight into 19th century American village life. A local natural wonder is the Mark Twain Cave Complex where you can explore the dank underground passages. Afterwards, enjoy the river views on a trip on the Mark Twain Riverboat.

The green river valleys are the perfect location for outdoor activities such as canoeing and trout fishing. Woodland trails can be enjoyed on foot or horseback. Adventurers can try river rafting.

The riverside city of St Louis has a wealth of visitor attractions. Discover more about American history at the Old Courthouse and Faust Historic Village. Take in the cultural sights at the Laumeier Sculpture Park. Kids will love the Six Flags St Louis theme park and the St Louis Zoo. For a real taste of America, come to the home of Budweiser, the Anheuser-Busch Brewery or discover traditional Indian life at Cahokia Mounds.
Kansas City offers fascinating attractions such as the National Frontier Trails Center, where you can learn how pioneers colonised the land. The Negro Leagues Baseball Museum is dedicated to American sporting heroes. At night, the city comes alive to the sounds of Jazz. Discover more about the roots of the Jazz music scene at the American Jazz Museum.
Missouri vacation rentals and summer rentals include lake houses and log cabins.
Self-catering holiday cottages and apartments to rent in Missouri:
Special offer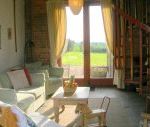 Price originally 350 GBP, Now reduced to 275 GBP
see more about available dates